Gabiano
Although based in New Zealand, Gabiano source all their designs from Europe to ensure their customers are up to date with the latest fashion.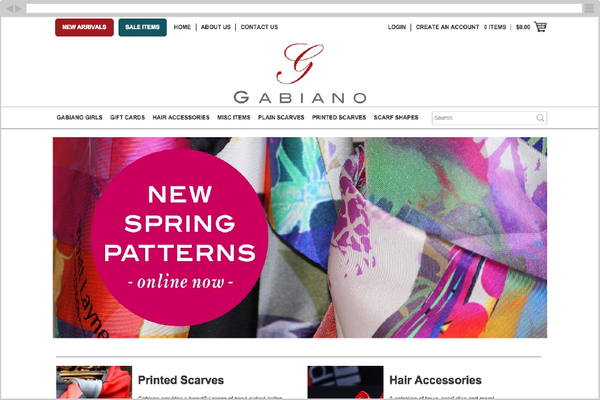 Gabiano gets the Ninja makeover treatment.
Gabiano is a purveyor of fine ranges of beautiful silk scarves and hair accessories and believe their range of square scarves is the most comprehensive in New Zealand. They regularly visit Europe to source the latest scarf designs from the European, making sure latest fashion in scarves is always available at gabiano.co.nz
Gabiano NZ first came to the Ninjas in 2013 to develop a site to mirror the integrated website built for the Australian part of the company the year before. It was a website created with access to approved customers only. With a number of internal changes, a decision was made to makeover the site and also open the site to everyone.
Working with Ninja's Graphic Designer, they have created a fresh new look and they are excited about the release to new and existing customers. Gabiano NZ are interested in a full upgrade within the next 12 months to enhance the features and functionality of their website, the new look has been a fantastic way to improve the site until this occurs.
Web Address: www.gabiano.co.nz
Software: MYOB Exo
Location: New Zealand
---
Integration Features
Features:
Stock Availability
Prevent ordering if out of stock
Gift Cards
Customer special pricing
Customer are linked to campuses based on their postcode
Customised sales orders to assist with reporting
---