Home

/

Integrated B2B eCommerce Platform in Australia
Integrated B2B eCommerce Platform for Wholesale Businesses
Web Ninja revolutionises the way wholesale e-commerce businesses operate by offering the best B2B eCommerce platform, tailor-made for your industry. Seamlessly integrating with your existing systems, our platform streamlines operations, boosts sales and provides exceptional customer experiences. Say goodbye to manual processes and hello to a future of efficiency and growth.
How Web Ninja Works
Web Ninja makes Online Ordering for B2B businesses easier than ever. We sync all relevant information directly from your Accounting software to ensure an optimal experience for your customers 24/7. With Web Ninja, your B2B Webstore will be up to date with all your products, stock levels, pricing, customer information, invoices and much more - AUTOMATICALLY every minute of every day. Not only that, but when your customers order online (at their agreed pricing), their orders will automatically sync back to your Accounting Software within a minute of being completed.


No more data entry errors and delays
No more selling products that are out of stock
No more manual website updates
No more wasted time
Web Ninja is an expert in creating highly professional B2B centric Online Ordering Webstores which allow your customers to order and reorder their preferred products as quickly and easily as possible. Our mission is to transform you into the preferred supplier for your customers, offering a seamless and delightful ordering experience. With our assistance, your product management becomes effortless and efficient.
Our system ensures that your products sync and update automatically on your website 24/7, providing real-time and accurate information to your customers. Pricing is consistently up to date, eliminating any discrepancies and providing transparency.
We also ensure that your stock levels are always synchronized, preventing any potential inventory issues. Moreover, customer data is automatically uploaded and linked to streamline communication and improve customer service. As orders come in, they are seamlessly synced back to your Accounting Software, facilitating smooth and organized financial tracking. With our comprehensive and automated solutions, you can focus on providing exceptional service and building strong relationships with your customers.

Web Ninja Integrated B2B Webstore Key Features
1

The Web Ninja Integrated B2B Webstore comes equipped with a wide array of key features designed to optimize your online business operations. Seamlessly integrated into popular Accounting Software such as MYOB, MYOB Exo, Reckon, QuickBooks, Attaché, Infusion, Jiwa 7, Tencia, SAP, Unleashed, and more, the platform ensures smooth data transfer and synchronization.

2

You have the flexibility to choose between a standard template or a fully customized design, allowing you to create a webstore that aligns perfectly with your brand identity. The Content Management System (CMS) empowers you with unlimited pages, galleries, and menu items, providing total flexibility in managing your website's content.

3

Customer login access is simplified as data is automatically uploaded from your Accounting Software, inviting customers to log in and place orders effortlessly. The platform stands out with its absence of transaction fees and the capability to showcase an unlimited number of products and categories, catering to your diverse product range.

4

To secure your data, the Webstore conducts daily site backups, and stock level indicators provide live and up-to-date stock information 24/7. Custom special pricing, based on the discount rules from your Accounting Software, is seamlessly replicated to enhance your customers' online shopping experience.

5

Effortlessly deploy products to the web and implement cross-selling strategies to maximize sales potential. Customers can utilize both basic and advanced product search options, while specials and clearance pages offer effective promotional opportunities. The arrangement of product display can be tailored for optimal presentation.

6

Security is a priority with secure local hosting enabled by SSL (Secure Sockets Layer) technology. Various payment options, including credit card and PayPal (with additional bank fees), as well as manual credit card processing, bank transfer, and purchase order payments, ensure convenience for customers.

7

Product options, such as color, size, and style integration, are available for clothing and apparel items. Customers can benefit from discount coupons and explore featured product highlights. The platform facilitates purchase based on previous orders and automatically links Accounting customers to their respective accounts on the website.

8

Sales representatives can efficiently place orders on behalf of customers using tablets or iPads, streamlining the ordering process. The 'Quick Pick' feature dynamically creates smart order lists based on each customer's personal order history, enhancing order efficiency.

9

Order Templates cater to customers who frequently reorder the same items, and you can set purchase order due dates for stock items. Additionally, you can manage credit control by stopping credit or placing holds directly from your accounting package.

10

The platform supports minimum buy and multi-pack combinations, and it can integrate with comparison shopping feeds, Google Analytics, SEO Manager, and an XML sitemap to enhance visibility and data insights. With the Web Ninja Integrated B2B Webstore's comprehensive features, you can confidently establish a robust and efficient B2B eCommerce presence.

Elevate your wholesale business with our comprehensive e-commerce solution that simplifies operations, drives sales, and enhances customer experiences. Join Web Ninja today and embark on a future of growth and success.
Easy to Update with a Stack of Cool Features
All of these amazing features, plus a sleek, modern responsive template branded with your
logo & colours come standard with a Web Ninja B2B Webstore.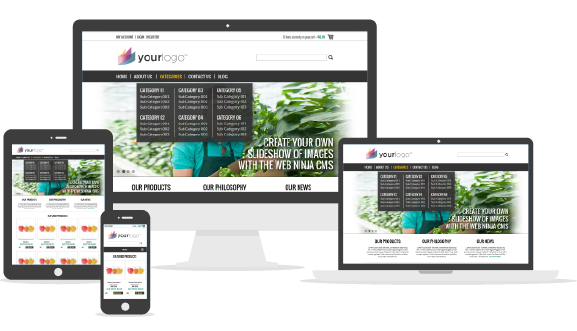 More About B2B eCommerce
B2B eCommerce is now one of the fastest-growing industries online. In recent years wholesale customers have demanded that they are able to order online with the same kind of efficiencies that Retailers can. B2B ordering though doesn't necessarily require all the pretty bells and whistles that retail websites might - as wholesale buyers often know exactly what they want to order (or re-order) from you.
The priority is on being able to do so as quickly and efficiently as possible. Not only that, these customers want to be able to order at their agreed pricing. They want to see what they ordered previously and they want to be able to easily see what new products might relate to their previous orders.

Web Ninja has recognised these key differences and has geared our B2B platform this way over the past 12 years. Our passion is in putting a system in place that will allow you to sell more products with less effort. Saving you time and making you money. Want to know more? Click on the enquiry above.
Web Ninja B2B eCommerce Platform Frequently Asked Questions:
What is a B2B eCommerce platform?
A B2B eCommerce platform is a digital solution that enables businesses to conduct online transactions, sales, and interactions with other businesses (B2B) in a secure and efficient manner.
It serves as a B2B digital marketplace where wholesalers, manufacturers, distributors, and retailers can buy and sell products or services, manage orders, and collaborate with their trading partners.
What makes Web Ninja's B2B online marketplace / eCommerce platform unique?
Web Ninja stands out with its seamless integration, tailored industry-specific customization options, and streamlined order management. Our platform empowers businesses by automating processes, optimizing performance, and providing a personalized and efficient B2B eCommerce experience.
Can Web Ninja's platform be integrated with existing systems?
Absolutely! Web Ninja's wholesale ecommerce platform is designed to seamlessly integrate with your current systems, including inventory management and ERP systems. This integration ensures real-time accuracy, eliminates manual data entry, and simplifies operations.
How does Web Ninja simplify order management?
Our platform streamlines order management by automating workflows, offering bulk order processing capabilities, and providing order tracking functionalities. These features reduce manual effort, increase efficiency, and enable businesses to handle high volumes of orders smoothly.
Does Web Ninja offer catalog management features?
Yes, our online shopping store provides robust catalog management capabilities. You can create visually appealing catalogs, manage pricing tiers, handle product variations, and implement flexible pricing strategies. This ensures that your B2B customers have a user-friendly and intuitive browsing experience.
Can Web Ninja help in analysing business performance?
Absolutely! Web Ninja's platform offers comprehensive reporting and analytics tools. Monitor sales, track inventory levels, analyse customer behavior, and identify growth opportunities. These data-driven insights enable businesses to make informed decisions and drive their success.
Is the Web Ninja platform mobile-friendly?
Yes, our platform is designed to provide a seamless experience across devices. Whether your customers are accessing your B2B portal from desktops, tablets, or smartphones, they can easily browse catalogs, place orders, and manage their accounts on the go.
How can I get started with Web Ninja's B2B eCommerce platform?
Getting started is easy! Simply reach out to our team through our website or contact us directly. Our experts will guide you through the onboarding process, understand your business requirements, and provide the necessary support to set up and customize the platform according to your needs.
What kind of customer support does Web Ninja offer?
At Web Ninja, we prioritise exceptional customer support. We provide responsive assistance through various channels, including email and live chat. Our dedicated support team is ready to address any questions or concerns you may have, ensuring a smooth experience with our platform.
Is Web Ninja's platform scalable to accommodate business growth?
Absolutely! Web Ninja's platform is built to scale with your business. Whether you are a small business or an enterprise-level company, our platform can handle your growth trajectory, ensuring that it continues to meet your evolving needs as your business expands.
Does Web Ninja offer any training or resources to help businesses make the most of the platform?
Yes, we offer comprehensive training resources, documentation, and tutorials to help businesses maximize the potential of our platform. Our aim is to ensure that you have all the knowledge and tools necessary to leverage the platform's features effectively.
Ready to make the leap?
Contact us now to get started on your eCommerce transformation!