Two Green Zebras
Two Green Zebras is the culmination of Chris Roche's 20 years of experience in the craft and textile industries.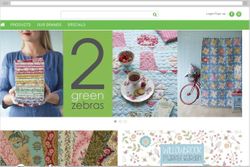 B2B for Tencia
Two Green Zebras is the culmination of Chris Roche's 20 years of experience in the craft and textile industries. Chris identified a gap in the industry for a boutique, energetic craft supplier devoted to sourcing premium brands with a difference. Using Tencia for many years, Chris wanted to reduce the time spent around sales order capture as well as open up the ability for his customers to place orders and get up to date inventory and other customer related information when they wanted, at their convenience.
Using Web Ninjas seamless integration with Tencia's strong backend architecture meant Chris can drive his website product content, categories and specifically the varations around his products designs & patterns automatically via Tencia's 'user defined fields'. Products can be listed on the site simply by using Chris and team using Tencia, meaning no duplication of data and always up to date information and pricing for his customers.
Web orders are automatically imported into Tencia saving the team even more time whilst ensuring speedy turnaround of order fulfilment.
Website: www.twogreenzebras.com
Software: Tencia
Location: Sunshine Coast, Qld
---
Integration Features
Tencia integration
Stockcode, descriptions, pricing, specials are all automatically synced from Tencia to the web. Customers in Tencia are also automatically linked to the site (logged in customers see their Tencia based price rules).
Features:
Custom template design - Responsive template to deliver the right sized site layout on all devices.
Login for customer specific pricing, price level (RRP) displayed by default.
Easy 'B2B' style product listing with products 'colour/patten' images for ease of ordering.
Products shown on the site using a Tencia 'UDF' field.
Ablity to see and order in decimal places (fabric meterage).
Pre-ordering of products - for new upcoming 'seasons'.
Customer import – Card file flagged using a Tencia UDF field.
Customers can re-order from previous orders.
Display of a ETA or pre-order against out of stock products based on Tencia purchase orders.
Invoices and statements from Tencia shown in the 'my account' area
Sales reps order on behalf of their customers.
Product images imported automatically from a folder location on the network.
Payment options presented based on the credit status of customers in Tencia.
---