Home

/

Integrated B2C eCommerce Platform in Australia
Integrated B2C eCommerce Platform for Retail Businesses
Web Ninja is the ultimate all-in-one B2C eCommerce platform, designed to elevate your retail business and maximise your success. Seamlessly integrating with your existing retail systems, our platform revolutionises your operations, drives sales, and delivers unparalleled customer experiences in the world of online retail. Say farewell to manual processes and embrace a future of efficiency and growth.
How Web Ninja Works
Web Ninja's e-commerce platform is built in such a way that managing multiple products, different prices and displaying different information to wholesale customers is easily achieved. You can manage which products are displayed on your wholesale site and at which price to different customers or sales representatives and at the same time run a fully functional retail site syncing specific products and retail prices.

Standard features for Web Ninja B2C Webstores
Integrated to your Accounting Software
Choice of Standard Template
Content Management System (CMS)
Login access customers
No Transaction Fees
Unlimited Number of Products and Categories
Daily Site Backup
Stock level Indicators
Custom Special Pricing
Selectively deploy products to web
Cross Sell
Product Search – Basic and Advanced
Specials
Product Display Order
Secure Local Hosting (SSL)
Credit Card & PayPal (Additional bank fees apply)
Manual Credit Card Processing Option
Freight by region, postcode or country
Freight by weight, volume, order value, number of items
Payment by bank transfer
Payment by purchase order
Product Options (Users Custom Fields)
Discount Coupons
Featured Products
Auto-link accounting customers to website
Minimum buy and multi pack combinations
Google Analytics
SEO Manager
XML Sitemap
Easy to Update with a Stack of Cool Features
All of these amazing features, plus a sleek, modern responsive template branded with your
logo & colours come standard with a Web Ninja B2C Webstore.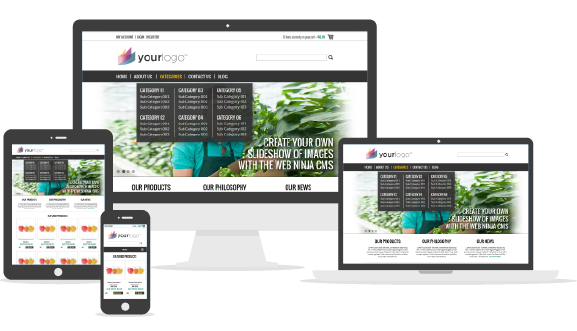 Web Ninja B2C Retail Platform Frequently Asked Questions
What is a B2C ecommerce platform?
A B2C ecommerce platform is a specialized software tool designed for online retailers, empowering them to establish, oversee, and run an internet-based store dedicated to catering directly to individual consumers. It serves as the backbone for managing every aspect of an online shop, facilitating seamless operations aimed at satisfying end consumers' needs and preferences.
What is Web Ninja's B2C retail platform and its purpose?
Web Ninja's B2C retail platform serves as a robust digital solution for secure online transactions and interactions with individual customers. It offers a centralised marketplace for retailers to display products, manage orders, and provide seamless shopping experiences.
How does Web Ninja simplify order management for retailers?
Web Ninja streamlines order management by automating workflows, offering bulk processing capabilities, and providing real-time order tracking. These features boost efficiency, minimise manual work, and enable smooth handling of large order volumes.
Does Web Ninja offer training and support for businesses using the platform?
Yes, Web Ninja provides comprehensive training resources, documentation, and tutorials to assist businesses in maximising the platform's potential. The aim is to ensure users have the knowledge and tools needed to effectively leverage the platform's features.
Ready to make the leap?
Contact us now to get started on your eCommerce transformation!