Are you in search of the best eCommerce accounting solutions for your business in Australia and New Zealand? Look no further than Web Ninja, the leading integrated eCommerce solutions provider. Our experienced team specializes in eCommerce platforms, seamless integrations, high-performance connectors, and professional SEO services. We understand the importance of integrated e-commerce solutions in achieving online sales goals and thriving in today's competitive eCommerce landscape.
An integrated eCommerce solution plays a pivotal role in ensuring seamless operations by offering real-time updates. Imagine this scenario: a customer makes a purchase through the front-end interface, and at that moment, the integrated system swiftly synchronizes this action, updating not just the order records but also seamlessly aligning the back-office accounts and inventory.
This synchronization not only averts potential product or pricing discrepancies but also fosters a highly responsive and efficient operational environment. With Web Ninja, you can harness the power of these versatile and indispensable solutions to enhance efficiency, boost customer satisfaction, and drive growth.
Tell us your requirements and get a free consultation!
Comprehensive eCommerce Solutions for Australian and New Zealand Businesses
Our integrated eCommerce solutions are tailored to meet your specific business requirements. Whether you need a custom-designed eCommerce platform or want to integrate your accounting software with popular platforms like Shopify or BigCommerce, Web Ninja has got you covered. Say goodbye to stock duplication, maintenance, and order re-keying headaches by leveraging our expertise.
Web Ninja excels in designing eCommerce platforms, seamless integrations, and high-performance connectors that enable businesses to thrive online. In addition, our top-notch SEO services can enhance your website's search engine rankings and drive more traffic to your eCommerce store.
With Web Ninja, you can count on our comprehensive eCommerce solutions, which are customised to meet your specific business requirements and help you achieve your online sales objectives. Say goodbye to stock duplication, maintenance, and order re-keying headaches by integrating your accounting software with our eCommerce platform, Shopify or BigCommerce. Simply input your data into the accounting software, and let Web Ninja take care of the rest.
---
Choose Web Ninja's integrated B2B and B2C eCommerce platforms for wholesale and retail businesses. Our platforms provide an easy way to take orders, keep your inventory up to date, and create efficiencies throughout the online ordering process. We specialize in creating a robust online presence that boosts revenue and creates a seamless shopping experience for your customers.
We also offer ecommerce connectors for popular platforms such as Shopify, Amazon, eBay, and Bigcommerce. These connectors enable businesses to seamlessly integrate their e-commerce platform with their chosen sales channel, simplifying inventory management, order fulfilment, and payment processing.
The Shopify connector allows businesses to create an online store with ease and integrate it to their accounting solution, while the Amazon connector facilitates selling on the world's largest online marketplace. The eBay connector offers a hassle-free way to sell products on the popular auction site, and the Bigcommerce connector provides a complete e-commerce solution for businesses of all sizes.
Web Ninja specializes in seamless data integration for popular inventory management and ecommerce accounting software like MYOB Advanced, MYOB Exo, MYOB AccountRight, MYOB Business, Retail Manager, Reckon, Oracle NetSuite, Attache BI, Quickbooks, Jiwa, Ostendo, Infusion Business Systems, Fishbowl, Xero, Tencia, Unleashed, Sybiz, and Wiise.
By syncing online stores with these systems, businesses can automate data updates and eliminate manual entry, resulting in increased efficiency and cost reduction. With Web Ninja's integration solutions, businesses can focus on growing their online presence while delivering a seamless customer experience.
Supercharge your online sales with Web Ninja's professional e-commerce SEO services. Our experienced team of experts will optimize your website to rank higher in search engines, drive targeted traffic, and increase conversions. With our tailored SEO strategies, you can maximize your online presence, outrank competitors, and achieve substantial growth in your eCommerce business.
Choose Web Ninja for Your eCommerce Success
By choosing Web Ninja's integrated eCommerce services, you can enjoy enhanced efficiency, increased revenue through improved SEO, tailored solutions to meet your unique business requirements, and an improved customer experience. Gain a competitive edge in the crowded eCommerce market with our cutting-edge solutions and expert advice.
Web Ninja's established history of delivering successful and scalable eCommerce solutions, use of cutting-edge technology, and exceptional customer support make us the reliable partner you need to succeed in the competitive eCommerce market. Let us handle the technical aspects while you focus on growing your business and staying ahead of the competition.
SUCCESS STORIES
Alphaweld Supply Group.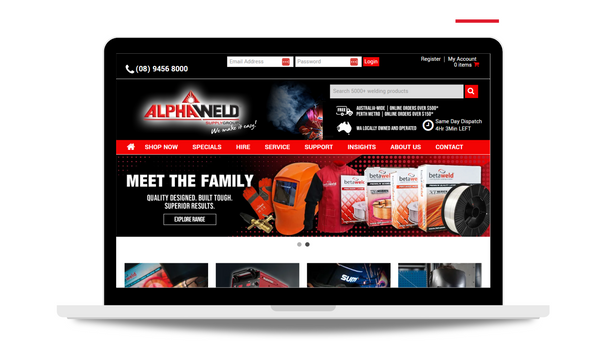 Alphaweld has been a leading supplier of welding equipment and supplies for over 14 years and offers an extensive range of premium supplies and hire gear at competitive prices.
With over 60 years of combined technical knowledge, Alphaweld stands unparalleled when it comes to welding expertise and ordering through our website makes sourcing 'easy' with many well-known brands and other exceptional products regularly in stock.
Client Testimonials
The Ninja Mission
"We aim to provide the best-integrated ecommerce solutions for our customers, helping them sell more whilst creating greater efficiencies in their business.
Web Ninja also provides ecommerce software integration for some of the most popular small business accounting solutions including MYOB Advanced, MYOB Accountright, MYOB Exo, Attache, Infusion Business Systems, Ostendo, Fishbowl, JIWA, Tencia, Sybiz, Wiise and Quickbooks.
Our integrations provide the flexibility of using our own Web Ninja ecommerce platform (standard or custom - B2B, B2C or both), linking to your Shopify or BigCommerce store, or opening up more channels via our eBay, Amazon and Facebook store connectors."
Web Ninja Resources
Discover our success stories and resources, including SEO and eCommerce blogs, FAQs, and webinars, to enhance your understanding of eCommerce integration. Contact us now to get started on your eCommerce transformation. Summon a Ninja and schedule a free consultation today!
Ready to make the leap?
Contact us now to get started on your eCommerce transformation!