Custom Utes
B2B and B2C Exo Integration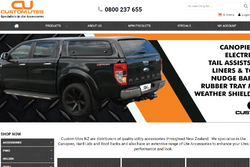 Custom Utes New Zealand is 100% New Zealand owned and operated.
They are the distributors of quality utility accessories throughout New Zealand. Based in Auckland, they can supply products nationwide to meet your utility accessory needs.
They are the agents for quality brands such as Aeroklas, HSP, Rhino Rack, Weathertech, UnderCover, just to name a few.
Their range includes ute canopies, electric roll tops, hard lids, load lids, nudge bars, weather shields, roof racks, tailgate assists, central locking tailgate kits, bed liners and more.
Website: customutes.co.nz
Software: MYOB EXO
Challenges
Custom Utes needed to have the capabilities to have a website that had both B2B and B2C options with ability to 'sync' with their MYOB Exo accounting package.
As their products are vehicle specific, they needed their customers to have the option of filtering down through make and model when selecting products, this vehicle information was also stored in MYOB Exo in extra fields.
Custom Utes also had challenges on their previous site with customers abandoning their cart part way through an order, with no visibility of who the customer was.
Mailchimp integration was needed to avoid duplication with recording marketing information.
Products are often 'bulky' in nature and therefore can't be included in a freight calculation until later in the process, requiring a quote to be sent to the customer after the order has been placed.
Solution
The Web Ninja 'abandoned cart' module was enabled allowing Custom Utes to send out an automated reply 2,4, 24hrs or even 7, 10 or 14 days after the customer abandoned cart and entice the customer to complete the purchase
Web Ninja's integration with MailChimp allows Custom Utes to push all their customer's contact information through to Mailchimp. This solution allows Custom Utes to use the information for marketing purposes.
Using the Web Ninja make and model module search module, Custom Utes customers to search for products by selecting a series of dropdowns, each drop-down determines the values of the next dropdown
Bulky Items can be flagged in MYOB Exo and automatically excluded from the shipping calculation on checkout. Custom Utes can then discuss with the customer the freight component and modify the Sales Order in Exo to come to a final order amount.

Results
Custom Utes have both B2B & B2C capabilities, allowing retail customers to be set up specifically as cash sales and login as a guest only seeing the retail pricing. Whilst the Wholesale customer's login in using their credentials to see their specific information and pricing. Customers can see backorders if any (linked to MYOB Exo), order quickly via Web Ninja's 'quickpick' pantry style ordering page, create and order template to use again and even look up, print and pay an invoice.