Rapid Spray
B2B & B2C integrated with MYOB Exo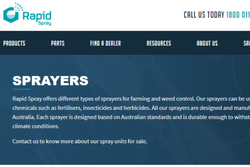 For over 25 years, Rapid Spray has been dedicated to bringing innovative products to the agricultural, industrial and government industries in the spraying and liquid cartage sector.
Based out of Singleton NSW, everyday we strive to achieve our motto, "The Proof is in the Performance".
Website: rapidspray.net
Software: MYOB EXO
Challenges
Rapid Spray needed to have the capabilities to have an updated website to have the capabilities that suit B2B & B2C customers with integration to their MYOB Exo accounting software
Rapid Spray have a number of sales reps that need to order on behalf of customers whilst on the road.
Due to Rapid Spray having a brand-new site their current authority with Google is fairly low causing their SEO ranking to be poor.
Due to Rapid Spray range of products being fairly bulky they needed the capability to be able to quote the customer after purchase for freight as prices change depending on weight and distance that would sync back to their MYOB Exo package.
As their products are specific, they needed their customers to have the option of filtering down through make and model when selecting products, this information was also stored in MYOB Exo in extra fields.
Solution
Web Ninja has an SEO module, that allows customers to put specific Metadata into the CMS for a specific page.
Web Ninja have the capabilities to flag Bulky Items with Rapid Spray MYOB Exo system allowing the customer to see the freight will be TBC on checkout.
Using the Web Ninja make and model module search module, Rapid Spray customers to search for products by selecting a series of dropdowns, each drop-down determines the values of the next dropdown
Web Ninja's system allows for related products to be displayed on the product, that can be updated via their MYOB Exo accounting system. Related products have resulted in an increase in the average sales order.
Results
Rapid Spray has both B2B & B2C capabilities, allowing retail customers to be set up specifically as cash sales and login as a guest only seeing the retail pricing. Whilst the Wholesale customer's login in using their credentials to see their specific information and pricing. Customers can see backorders if any (linked to MYOB Exo), order quickly via Web Ninja's 'quick-pick' pantry style ordering page, create and order template to use again and even look up, print and pay an invoice
Web Ninja's Sales Rep module allowed Rapid Spray to place orders on behalf of customers in the instance when a customer calls the sales rep up to place an order. The Sales Rep can place the order and all the information can go through on behalf of the debtor, with all the correct billing and shipping information.
Rapid Spray was able to use the SEO Module to put specific Meta descriptions, keywords and titles that help improve their overall SEO authority with Google allowing them to show higher up on Google Rankings