Taipan
Taipan moves to Wiise Accounting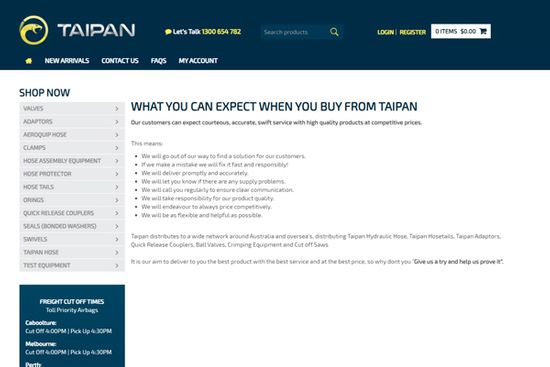 Taipan distributes to a wide network around Australia and overseas, distributing Taipan Hydraulic Hoses, Taipan horsetails, Taipan Adaptors, Quick Release Couplers, Ball Valves, Crimping Equipment and Cut off Saws.
Software: Wiise (also known as Microsoft Business Central)
Challenges
Move from their existing inventory management integration to Wiise (Microsoft Business Central) and keep all webstore integration touchpoints and functionality.
Solution
Having a Web Ninja webstore integrated with their inventory system since 2013, Taipan wanted to continue using Web Ninja's B2B webstore for their customers and avoid disruption to the ordering process.
Web Ninja working closely with Taipan's Wiise partner, we were able to integrate their new Wiise solution prior to their operations team cutting over internally. This allowed for testing and verification that the relevant data previously syncing from their old system was now correctly coming from the new platform.
Results
Taipan has not had to re-educate customers by moving them to a different eCommerce solution.
Taipan has the same data touchpoints and inventory/order integration as per their previous integration, avoiding process changes.
Web Ninja continues our long-time relationship with a valued customer and expands our integration options to include Wiise (Microsoft Business Central) now.
Other Web Ninja Blogs