NAW Controls
Web Ninja B2B with Tencia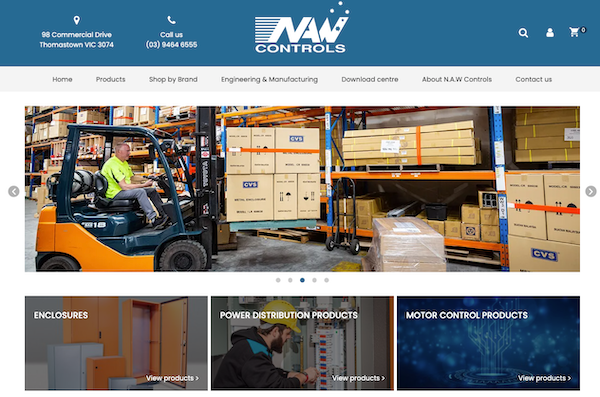 N.A.W Controls - N.A.W. Controls is a family-owned business, its origins began in the back room of a house in Macleod, Melbourne in 1990. The business then rapidly expanded to a small warehouse in Greensborough and has progressed to the modern, spacious warehouse/office complex that we now operate in today, at 98 Commercial Drive, Thomastown, Victoria. N.A.W. Controls takes great pride in working with our suppliers and we believe that a close working relationship with our preferred suppliers has created the foundations of a strong, thriving business. With the Eureka range of products now becoming one of our fastest-growing ranges we will continue to develop versatile products that suit the need for quality and performance as expected in the Australian electrical industry. With a staff numbering 44 people now and a national distributor network, N.A.W. Controls has now positioned itself as a viable alternative in sourcing electrical products in the Australian manufacturing, construction and OEM industries
Website: https://www.nawcontrols.com.au/
Software: Tencia
Challenges
Create a new website that replaces their current custom site and open up online ordering for their customers.
Create efficiencies in their sales process by integrating the webstore to Tencia, their accounting/inventory system.
Solution
A custom-designed template implemented and integrated by the Web Ninja team to Tencia for product information and web order importing.
Various customer-facing modules were deployed to enhance product presentation alongside other informational tools to assist customers in retrieving up to date information as to when needed. The features include: Back Orders display (based on Tencia information), Favourites, Featured Products, Purchase Orders, Related Products, Special Products.
Additional easy to use order and transactional features were added to the site to make the customer journey as smooth as possible, these include: Order Templates, Quick Order, Quotes, Reorder from previous orders, Express Search and Invoice display/payment.
Adding Web Ninja's 'Ninja Pay' completes the transactional circle, providing a PCI-compliant payment gateway for enabling NAW to accept order payments easily and securely.
Results
Brand new eCommerce facility modernising NAW Controls branding.
Opening up eCommerce for ease of ordering for their customers.
Integration to Tencia means NAW Controls staff to drive their web content from Tencia itself, whilst orders on the site appear in Tencia with the relevant details to enable quicker shipments.