Peacock Bros
MYOB Advanced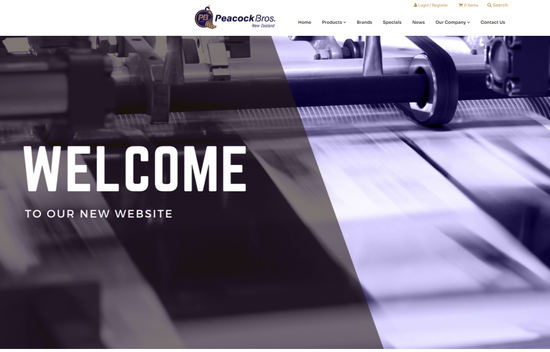 Peacock Bros. was established on Collins Street in Melbourne, in 1888. Brothers Ernest and Charles Peacock founded the small general printing business together, quickly developing a reputation for exceptional quality and outstanding service.
In 2002 Peacock Bros. expanded into Auckland, New Zealand where it has emulated the same success from other companies within the Peacocks Group. The NZ branch has label production capabilities along with an experienced sales team and service department to manage and support any local customers to the highest standard.
They continue to locally manufacture and supply high-quality printed labels, tags, thermal printers, ribbons and packaging solutions to a wide range of clients around the world. They are also one of the largest providers of enterprise mobility, supply chain and healthcare technology solutions across ANZ.
Business Challenge
Peacock needed an updated website that suited their B2B customers alongside integration to their MYOB Advanced to create efficiencies in keeping items up to date on the site as well as removing the manual entry of orders.
Solution
A detailed plan was put together with the in-house marketing team and a Ninja Project Manager, covering ease-of-use, self-service, and scalability

Working with the Peacocks' Team, Web Ninja created custom product layouts to house their industry-specific information,

With a robust meeting and review system driven by the Peacocks' team's bold vision, Web Ninja created a system that streamlines both the user experience and administrative/sales functions.
Results
The customers were delighted because of an easy-to-use and functional website for Peacock Brothers.
Other Web Ninja Blogs