Home

/

Web Ninja B2B Webstores | Integrated B2B Ecommerce
Web Ninja B2B (Wholesale) Webstores - Integrated B2B Ecommerce
A Web Ninja B2B Webstore integrated with your accounting software is the smart & easy way to sell to your approved wholesale customers. B2B Ecommerce is rapidly on the rise. Web Ninja Integrated B2B Ecommerce platform will integrated seamlessly with your Accounting Software to ensure maximum efficiency and ease of use, as well as a totally personalised experience for your Wholesale customers.
B2B Ecommerce Integrated to your Accounting software will allow your customers to login and order at their agreed pricing, view their ordering history, download their invoices, and re-order from previous orders. Web Ninjas B2B Ecommerce platform its designed to give your customers the fastest, most accurate and most informed ordering experience, ensuring they will return regularly and with confidence.
Integrated B2B Ecommerce is by far the best way to deliver a great experience to your wholesale customers.
How Web Ninja Works
Web Ninja makes Online Ordering for B2B businesses easier than ever. We sync all relevant information directly from your Accounting software to ensure an optimal experience for your customers 24/7. With Web Ninja, your B2B Webstore will be up to date with all your products, stock levels, pricing, customer information, invoices and much - AUTOMATICALLY every minute of every day. Not only that, when your customers order online (at their agreed pricing), their orders will automatically sync back to your Accouting Software within a minute of being completed.


No more data entry errors and delays
No more selling products that are out of stock
No more manual website updates
No more wasted time
Web Ninja are experts in creating highly professional B2B centric Online Ordering Webstores which allow your customers to order and reorder their preferred products as quickly and easily as possible.
We will help you become the supplier your customers love to order from.
Products Sync and Update automatically to your site around the clock
Pricing is always up to date
Stock levels are always in sync
Customers automatically uploaded and linked
Orders automatically sync back to your Accounting Software

Standard features for Web Ninja B2B Webstores - Integrated B2B Ecommerce
Integrated to your Accounting Software (MYOB, MYOB Exo, Reckon, Quikcbooks, Attache, Infusion, Jiwa 7, Tencia, SAP, Unleashed and many more...)
Choice of Standard Template or a more Customised Design
Content Management System (CMS) - unlimited pages, gallerys, menu items and total flexibility
Login access customers - Automatically uploaded from your Accounting and invited to login and order
No Transaction Fees
Unlimited Number of Products and Categories
Daily Site Backup
Stock level Indicators - Stock is Live and up to date 24/7
Custom Special Pricing - Any discount rules setup in your Accounting software are replicated for your customers online
Selectively deploy products to web
Cross Sell
Product Search – Basic and Advanced
Specials and Clearance Pages
Product Display Order
Secure Local Hosting (SSL)
Credit Card & PayPal (Additional bank fees apply)
Manual Credit Card Processing Option
Freight by region, postcode or country
Freight by weight, volume, order value, number of items
Payment by bank transfer
Payment by purchase order
Product Options (Uses Custom Fields)

Colour size style integration (clothing/apparel)
Discount Coupons
Featured Products
Purchase based on previous orders
Auto-link accounting customers to website
Sales reps - 'order on behalf of' - Allow Reps to order for your customers from a tablet or iPad
'Quick Pick' - dynamic smart order list created per customer based on their personal order history
Order Templates for customers who typically reorder all the same stuff
Purchase Order due dates on stock items
Stop Credit/hold from From your accounting package
Minimum buy and multi pack combinations
Comparison Shopping Feeds
Google Analytics
SEO Manager
XML Sitemap
Easy to update with a stack of cool features
All of these amazing features, plus a sleek, modern responsive template branded with your
logo & colours come standard with a Web Ninja B2B Webstore.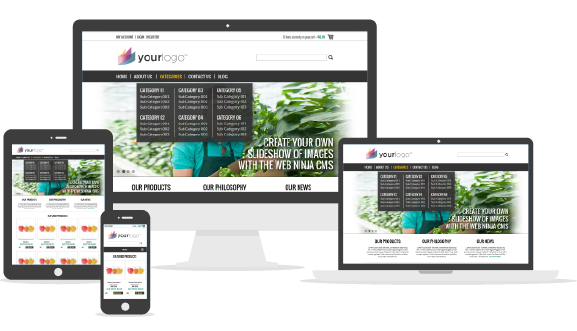 More about B2B Ecommerce
B2B Ecommerce is now one of the fastest growing industries online. In recent years wholesale customers have demanded that they are able to order online with the same kind of efficiencies that Retailers can. B2B ordering though doesn't necessarily require all the pretty bells and whistles that retail website might - as wholesale buyers often know exactly what they want to order (or re-order) from you. The priority is on being able to do so as quickly and efficiently as possible. Not only that, these customers want to be able to order at their agreed pricing. They want to see what they ordered previously and they want to be able to easily see what new products might relate to their previous orders.

Web Ninja have recognised these key differences and have geared out B2B platform this way over the past 12 years. Our passion is in putting a system in place that will allow you to sell more products with less effort. Saving you time and making you money. Want to know more? Click on the enquiry above.