Jemark
MYOB Accountright Integration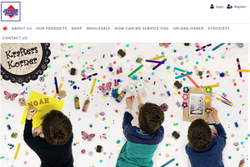 Jemark are an importing company based in Australia that have been in business for over 40 years. They have great experience and relationships with wholesalers all over India, Vietnam and Thailand for great products. The company has grown over the past 40 years from just a small garage to now a warehouse distribution centre based in Moorabbin.
Website: jemark.com.au/
Software: MYOB Exo
Challenges
Jemark Trading needed to have the capabilities to have an updated website (this is the second version with Web Ninja) that had both B2B and B2C options with integration to their MYOB Exo system
Jemark had a customised template that allowed more Ecommerce functions and a better, easier order process for their customers.
Jemark have a number of sales reps that need to order on behalf of customers whilst on the road.
Jemark wanted to provide customers with featured products so they could see easily what's new or on sale.
Jemark needed Mailchimp Integration to avoid duplication with recording marketing information.

Solution
Web Ninja Sales rep module allows Jemark Sales Reps to order on behalf of customers, they see the customer orders, invoices, order templates and of course their specific prices based on the prices rules set in MYOB Exo.
Web Ninja's system allows for featured products to be displayed on the home page, that can be updated automatically from their MYOB Exo accounting system.
Web Ninja applied a custom template to Jemark to create a website that caters exactly to Jemarks customised specifications.
Web Ninja integration with MailChimp allows Jemark to push all their customer's contact information through to Mailchimp. This solution allows Jemark to use the information for marketing purposes.
Results
Web Ninja's Sales Rep module allowed Jemark to place orders on behalf of customers in the instance when a customer calls the sales rep up to place an order. The Sales Rep can place the order and all the information can go through on behalf of the debtor, with all the correct billing and shipping information.
Jemark have both B2B & B2C capabilities, allowing retail customers to be set up specifically as cash sales and login as a guest only seeing the retail pricing. Whilst the Wholesale customer's login in using their credentials to see their specific information and pricing. Customers can see backorders if any (linked to MYOB Exo), order quickly via Web Ninja's 'quickpick' pantry style ordering page, create and order template to use again and even look up, print and pay an invoice.