All State Trailer Spares
B2B & B2C MYOB Exo integration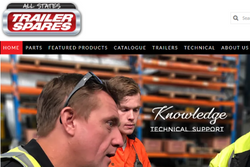 All States is an Australian, family owned distributor of trailer spares to the Automotive, Industrial, Hardware, Retail and OEM markets in Australia and New Zealand. All States Trailer Spares was started by Peter Hilton in 1997 when, after working in the trailer industry for 10 years Peter saw a need for a Trailer Parts supplier that could consistently deliver high quality parts at a competitive price. These values of being Fast, Reliable and Competitive remain the core values that drive the business today.

All States has seen tremendous year on year growth and has the widest range and greatest depth of stock of trailer parts in the marketplace with over 2500 SKU's in its range. All States introduced range of parts packaged for Retail in 2010 and in 2013 this range has been expanded to become the most comprehensive range of packaged trailer spares available in Australia.
Website: astss.com.au
Software: MYOB EXO
Challenges
All State Trailer Spares needed to have the capabilities to have an updated website to have the capabilities that suit B2B customers with integration to their MYOB Exo accounting software
All State Trailer Spares has a number of customer 'types' that were offered different pricing and products syncing from their MYOB Exo accounting software
All State Trailer Spares have a number of sales reps that need to order on behalf of customers whilst on the road.
Due to All State Trailer Spares having a brand-new site their current authority with Google is fairly low causing their SEO ranking to be poor.
Due to All States Trailer Spares range of products being fairly bulky they needed the capability to be able to quote the customer after purchase for freight as prices change depending on weight and distance that would sync back to their MYOB Exo package.
All State Trailer Spares needed Mailchimp Integration to avoid duplication with recording marketing information.
Solution
Web Ninja has an SEO module, that allows customers to put specific Metadata into the CMS for a specific page.
Web Ninja have the capabilities to flag Bulky Items with All State Trailer Spares MYOB Exo system allowing the customer to see the freight will be TBC on checkout.
Web Ninja integration with MailChimp allows All State Trailer Spares to push all their customer's contact information through to Mailchimp. This solution allows All State Trailer Spares to use the information for marketing purposes.
Results
All State Trailer Spares is a B2B portal, allowing wholesale customer's login in using their credentials to see their specific information and pricing (including quantity breaks). Customers can order quickly and easily via Web Ninja's 'quick pick' pantry style ordering page, create an order template to use again and even look up, print and pay an invoice.
Web Ninja's Sales Rep module allowed All State Trailer Spares to place orders on behalf of customers in the instance when a customer calls the sales rep up to place an order. The Sales Rep can place the order and all the information can go through on behalf of the debtor, with all the correct billing and shipping information.
All State Trailer Spares were able to use the SEO Module to put specific Meta descriptions, keywords and titles that help improve their overall SEO authority with Google allowing them to show higher up on Google Rankings