Home

/

The Health Food Store
The Health Food Store
Shopify integration with MYOB Retail Manager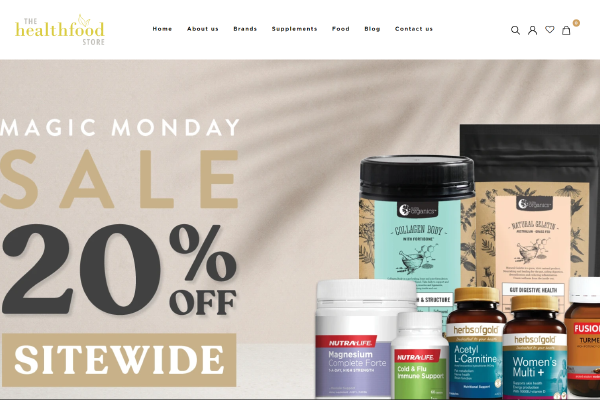 The Healthfood Store is a family-owned and run business. We are proud to be one of Australia's leading natural organic health food stores, providing healthy alternatives for over 20 years! Our mission is to provide the highest quality health products directly to our customers.

Our passion for natural health along with our extensive knowledge provide the best possible service, range and value for our customers. As we are an independent and owner-operated store we can select and endorse the products which in our experience are effective, manufactured ethically and have well-researched formulas and ingredients. Every health product we provide is high in quality and extensively researched. No matter where you are on your journey to optimal health we're here to guide you in your endeavour to health.
Shopify Store: thehealthfoodstore
Software: MYOB Retail Manager
Challenges
The Health Food Store needed a simplified system that integrated back to their MYOB Retail Manager accounting system and addressed their B2C and B2B audiences.
The Health Food Store needed price level information to be pushed through from their MYOB Retail Manager system to their Shopify store
The Health Food Store needed customer special pricing from MYOB Retail Manager for their wholesale customers to see when they placed their orders.
Solutions
The Health Food Store chose Web Ninja after careful consideration for its simple Shopify integration for pushing orders back to their Accounting system (MYOB Retail Manager)
The Health Food Store was able to upload the stock information on hand quantity from MYOB Retail Manager straight back to their Shopify store within minutes of the integration
The Health Food Store Sale Orders are automatically synced back to their MYOB Retail Manager system, creating a cash sale within with all the customer's details, shipping address, item code and quantity ordered
Results
The Health Food Store were able to minimise double handling of information from their MYOB Retail Manager system back to the Shopify store as the Web Ninja integration automates the price upload removing the risk of human error.
Having stock availability automated allowed The Health Food Store to remove the risk of overselling stock and allowing customers to see how many products were available for purchase.