PacLe'mond
B2B MYOB Exo integration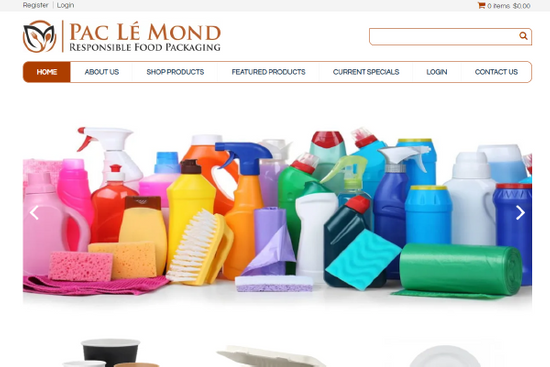 PacLe'mond is a Food Packaging, Hospitality and Cleaning Supply wholesaler. Our office and warehouse are located in Hume in Canberra.
We currently deliver to Canberra, Alpine & Monaro Regions, Yass Valley Region and Goulburn.
Challenges
PacLe'mond needed to have the capabilities to have an updated website to have the capabilities that suit B2B customers with integration to their MYOB Exo accounting software
PacLe'mond has a number of sales reps that need to order on behalf of customers whilst on the road.
PacLe'mond wanted to provide customers with featured products
PacLe'mond wished to provide their customers with a quality experience by having related products
Solution
Web Ninja's system allows for featured products to be displayed on the home page, which can be updated automatically from their MYOB Exo accounting system.
Web Ninjas system pulls products through from PacLe'mond MYOB Exo system that have been grouped together in the same group to display related products on the web page.
Web Ninja Sales rep module allows PacLe'mond Sales Reps to order on behalf of customers, that send back all orders to their MYOB Exo software
Results
PacLe'mond has B2B capabilities, allowing Wholesale customer's login in using their credentials to see their specific information and pricing. Customers can see backorders if any (linked to MYOB Exo), order quickly via Web Ninja's 'quick-pick' pantry style ordering page, create and order template to use again and even look up, print and pay an invoice
Web Ninja's Sales Rep module allowed PacLe'mond to place orders on behalf of customers when a customer calls the sales rep up to place an order. The Sales Rep can place the order and all the information can go through on the debtor's behalf, with all the correct billing and shipping information.
Other Web Ninja Blogs