Prestige Foods
MYOB Exonet integrated with B2B Online Ordering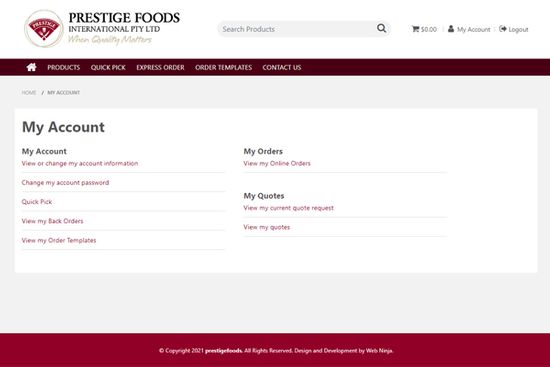 Prestige Foods - SINCE THE 1980S THE TEAM AT PRESTIGE FOODS INTERNATIONAL PTY LTD HAS BEEN EXPORTING AUSTRALIAN FOOD TO THE WORLD.
The tradition of quality continues through its Food Service Division. They were the first and are the best Australian exporters of meat – beef, lamb and chicken, as well as fish, fruit, salad and other vegetables, frozen produce, dairy products and non-food supplies to luxury resorts in the Maldives and throughout the Indian Ocean.
Challenges
Provide an ordering 'portal' for their valued international hospitality customers, ensuring the ordering process is easy, and functional and provides a level of confidence to their buyers.
Solution
Prestige Foods chose Web Ninja's B2B Online Ordering solution. An out-of-the-box, quick-to-implement ordering platform for end-users who typically order similar items each time.
Integrated into MYOB Exo in quick time, the Online Ordering solution uses Exo's price rules to display customer-specific pricing on log-in. Inventory items are displayed using the 'show on web' tick box in Exo, with product categories, images, UOM and other variables automatically linked to their respective fields in Exo.
Results
Prestige Foods now have an easily accessible ordering solution for their overseas customers. All items are kept up to date automatically from Exo, whilst orders are in Exo for processing soon after the customer clicks confirm on the ordering platform.
Customers in various timezones served by Prestige Foods have more confidence their order has been received at any time of their day.
Customers also have access to the many 'quicker' ordering functions available in the B2B Online Ordering platform, such as 'quick-pick', 'order templates' and 're-order' from a previous order with two clicks.
Other Web Ninja Blogs