Vero Foods
B2B Online Ordering for Attache BI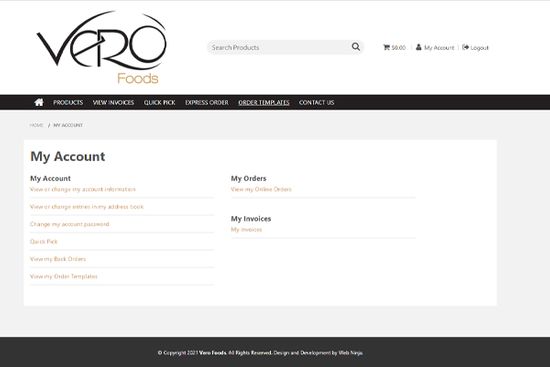 Vero Foods is a supplier to IGA/Drakes supermarkets, Vero Foods has a passion for well being Organic products.

Challenges
Implement a new B2B ordering site for their supermarket clients to log in and place orders quickly and easily. With customers based primarily in regional areas, speed and ease of use were going to be the biggest challenge in encouraging customers to move to web-based ordering.
Solution
Web Ninja's B2B Online Ordering solution is an 'out-of-the-box, easy and quick-to-set-up B2B portal integrated into Vero Foods Attache BI system.
The B2B Online Ordering solution is specifically built to accommodate customers who order similar items over and over. Ordering 'shortcuts' such as the Quick Order, Express Order and Order templates are built-in so returning customers can get in, order and get back to their own businesses.
Results
With some quick Attache BI data cleanup by the Vero Foods in-house team, Web Ninja was able to implement and make live the B2b Online Ordering in a short time.
Vero Foods customers have easy access to place orders quickly, get up-to-date pricing and on-hand qty, ven see their previous invoices 24 hours a day.
Vero Foods even pointed a fellow food industry prospect to the Ninjas, as they were over the moon with their new Ordering solution...thanks for the referral!
Other Web Ninja Blogs