OiOi
MYOB Account Right Live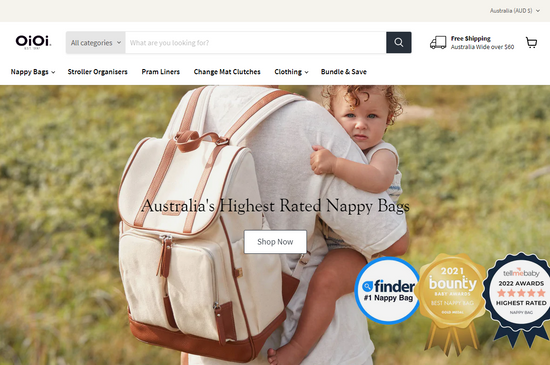 OiOi has been creating products for parents all around the globe with a core design philosophy in mind: practicality, quality and style. What began with an idea of the perfect nappy bag has grown into a family of different products including change mat clutches, pram liners, stroller organizers and this year the launch of OiOi Bamboo clothing!
They are incredibly proud to still be a 100% family-owned and operated business. They have a close relationship with our boutique factory to ensure that all of our products are manufactured ethically and to the best quality standard. We have worked with this factory for almost 15 years now and collaborate with them daily.
INITIAL BUSINESS CHALLENGE
Oioi came to Web Ninja with a successful B2C (retail) website using the Shopify platform. Oioi was looking to enhance its business operations by integrating its e-commerce software with MYOB Accountright Accounting software.
Oioi were unable to synchronize completed customer orders on Shopify to their MYOB Accountright software. Each order was re-typed line by line into the Invoice screen in MYOB. That's OK if you get one order a day but Oioi is now an online success with large daily invoice volumes and therefore wanted to avoid wasting time entering invoices by hand.

Oioi had to manually maintain products, pricing, and stock levels between Shopify and MYOB. Each new product or product change was maintained in two separate areas of the business.


DURING OUR DISCUSSION WE ALSO LEARNED
OiOi also managed a number of Wholesale Customers independently of Shopify. Shopify is limited to one price per product which is too restrictive to manage Whole customers. A B2B (Business to Business) Online Ordering Portal was of great interest to the team at OiOi.
Solution
Web Ninja Shopify Connector for MYOB Accountright

Web Ninja B2B Online Ordering portal for MYOB Accountright
Solution Ingredients
MYOB Accountright for Accounting / Customers / Stock and Sales Orders

Shopify + Web Ninja connector for the Retail Customer facing website

Web Ninja B2B Online Order Portal for wholesale customer orders (integrated as a login-only area linked to the OiOi Shopify site).
Results:
OIOI AND ITS CUSTOMERS CAN NOW ENJOY THE FOLLOWING BENEFITS
FOR RETAIL CUSTOMERS
Orders are now displaced in a quicker time frame as all orders placed on the OiOi Shopify website are synchronized to an MYOB Sales Order without human interaction

Product Pricing is always correct in Shopify and the product pricing information is coming directly from OiOi's MYOB Accounting Software
FOR WHOLESALE CUSTOMERS
New Wholesale clients can apply for access to the OiOi product range at wholesale prices providing they meet the terms and conditions requested by the OiOi team

All the various pricing rules that are set up in MYOB Accountright for individual customers are reflected automatically online

Wholesale clients can reprint copies of their invoices via the Online Portal

Wholesale clients can make reorder lists of regularly ordered products to speed up data entry

Wholesale customers can view the latest product releases and special offers.
FOR THE TEAM OF OIOI
They now have an e-commerce channel offering that has both B2B & B2C capabilities

New Wholesales can request an account and be up and running in minutes if approved.

Wholesalers have their very own login-only order portal

Existing wholesalers can order at the price, at their convenience 24/7

An end to duplicate data entry of stock

An end to re-keying Sales Orders from Shopify

An end to costly data entry mistakes

A greatly enhanced e-commerce experience for all customers.
Other Web Ninja Blogs