Arton Giftware
Arton Giftware develop, import and distribute a range of unique giftware products across the Australian and Asia Pacific market.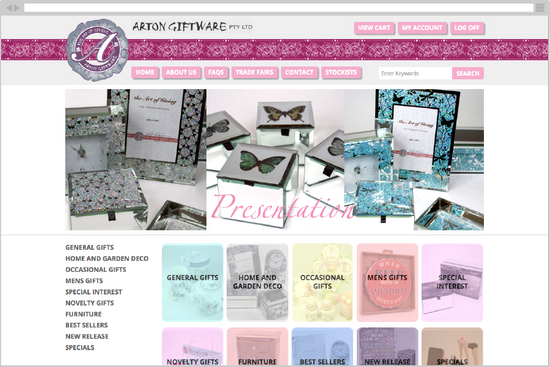 The Ninjas give the gift that keeps on giving.
Arton has been a successful business for over 15 years developing, importing and distributing innovative giftware for the Australian market as well as supplying goods to a number of retailers in the Asia Pacific region.
The Ninjas have successfully delivered a convenient and accessible solution for Arton's sales reps to place orders, monitor their customer buy habits and keep up to date with new and incoming stock.
Web Address: www.arton.com.au
Software: Ostendo
Location: Kellor Park, VIC
---
Integration Features
Import:
All product information is managed in Ostendo and imported to the website. Customer imports including price policies, credit terms and customer information
Features:
Minimum/Multiple Quantities - Products must be purchased in certain quantities, and the minimum required is automatically populated. Any attempts to purchase incorrect quantities will display an error message with the correct amounts required.
​Back Order Report - Customers can log in and view a list of orders that have back-ordered items. They can then drill into each order to view more information about the backorder including the products and quantities on backorder

Products are only visible to approved customers

The new account approval process
Temporary Access for potential customers
Ability to create new customers in CMS
Minimum/multiple qtys are enforced
Min first order amount enforced
Reorder previous orders
Multiple payment types are available
Invoices and statements
Quick Order
View Backorders
Customer pricing
Customer Import
Customer types
Product restrictions based on customer types
Sales Reps – Order on behalf
Sales Rep Report
---
Other Web Ninja Blogs