QWS Welding Supply Solutions
QWS Welding Supply Solutions provide a vast range of products for all your welding needs.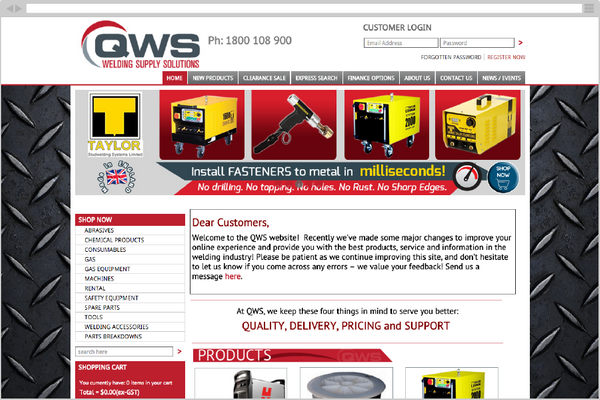 QWS sparks up with the Ninja's.
Since 1979, QWS Welding Supply Solutions has become Australia's single source solution provider to the welding industry. Their skilled team has extensive experience in the welding industry. This means everyone in their sales, administration, finance, store, and service departments, is equipped to help you find the welding solution you seek.
The Ninja's provided QWS a slick new site with a seamless integration for MYOB Exo, mapping across a range of fields from MYOB Exo including: Part Number, Price, Material, Process, Brand, Unit of Measure, Series, Pack Qty, Stock Level. The Ninja's also built a range of special order templates called Parts Breakdowns, allowing customers to quickly purchase the parts they need based on an assembly diagram.
Web Address: www.weldingsupply.com.au
Software: MYOB Exo
Location: Bulimba, QLD & Bayswater, VIC
---
Integration Features
Fields mapped from MYOB Exo including:

Part Number, Price, Material, Process, Brand, Unit of Measure, Series, Pack Qty, Stock Level

Products filtered by:

Material, Process, Brand, Unit of Measure, Series, Size
Special order templates called Parts Breakdowns
Express Order
New and Clearance products flagged in MYOB Exo
---