Bay Direct
Unleashed B2B and B2C integration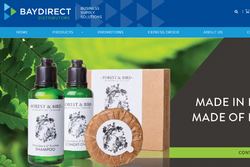 At Bay Direct our passion isn't selling products; our passion is providing you with the highest
quality products, supported by efficient, reliable and consistently excellent service.
Starting back in 1993, we've built and maintained a strong and loyal customer base across the Bay of Plenty and Waikato regions for more than 26 years.
By taking a collaborative and supportive approach in everything we do, we help you increase your bottom line by making informed decisions about the products you need to provide the best experience and service for your own customers.
Challenges
Bay Direct needed to have the capabilities to have an updated website to have the capabilities that suit B2B & B2C customers with integration to their Unleashed accounting software
Due to Bay Direct having a brand-new site their current authority with Google is fairly low causing their SEO ranking to be poor.
Bay Direct wanted to provide customers with featured products
Bay Directed wanted to provide their customers with a quality experience with having related products
Bay Direct wanted to provide customers with functionality to offer discounts
Solution
Web Ninja implemented a customised order form that allows Bay Direct Customers and Sales reps to add product by style to a list, access the list and use the matrix ordering process on each style. The list is then cleared after 'add to cart' is selected. This means reps and customers can select quickly the style they prefer and then run through a grid-style order sheet for specific colour + size selections.
Web Ninja has an SEO module, that allows customers to put specific Metadata into the CMS for a specific page.
Web Ninja's system allows for featured products to be displayed on the home page, that can be updated automatically from their Unleashed accounting system.
Web Ninjas system pulls products through from Bay Directs Unleashed system that have been grouped together in the same group to display related products on the web page.
Web Ninja's discount coupon module allows customers to apply coupons given to them and apply at the checkout. Within the module you can provide percentage discounts, dollar discounts or free shipping.
Results
Bay Direct Customers have both B2B & B2C capabilities, allowing retail customers to be set up specifically as cash sales and login as a guest only seeing the retail pricing. Whilst the Wholesale customer's login in using their credentials to see their specific information and pricing. Customers can see backorders if any (linked to Unleashedl), order quickly via Web Ninja's 'quickpick' pantry style ordering page, create and order template to use again and even look up, print and pay an invoice.
Bay Direct was able to use the SEO Module to put specific Meta descriptions, keywords and titles that help improve their overall SEO authority with Google allowing them to show higher up on Google Rankings
Bay Direct are able to use the discount coupon module to award customers with discount coupon codes that are applied at the checkout. This module allows 3 types of discount options allowing Bay Direct to reward customers in different ways.