The Importance of Professional Website Design
A professional web design will not only entice customers to buy from you by giving them an enhanced experience when they visit our online store but it will insure they feel confident to purchase from you.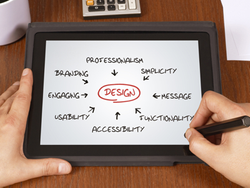 A professionally designed website is so important to your online business...
A professional web design will not only entice customers to buy from you by giving them an enhanced experience when they visit our online store but it will insure they feel confident to purchase from you. A professional site not only means the owner cares about their business and their online image but makes visitors feel the site is a trustworthy place to shop and that they are safe to give their personal details, and purchase from you. This can dramatically increase your sales, calls and leads.
On the other hand an unprofessional site will do the opposite and people may even leave your site if they feel it is unprofessional or untrustworthy. If a potential client visits a poorly designed site or unprofessional looking, hard to use site they will leave and go onto the next within seconds. A website design should be designed uniquely for you. It should be functional, branded to your company and perform well.
Using a cheap online template is not always the best option either. Whilst these templates may seem cost effective and look good they are not always designed and developed correctly meaning you will miss out on customers and/or need to have it modified to work properly. Once you consider the time to have a developer insure your template can be used in development and is optimised for the best online results it is usually more cost effective to see our graphic designer. When you go through the design brief with your designer explain what aspects of the template you like and have them develop a template that can be used right away, meets the requirements for search engines, is uniquely branded to your company's image and target audience and works with Web Ninja Software.
In the initial stages of your web development design is one of the most crucial elements to insure your success. It is important to discuss the objectives of your new design with your designer and give feedback in during the design process. This will insure your design progresses and the end outcome is something you are happy and proud of but most importantly targets your audience and meets its objectives.
A great website with a professional looking design that is easy to use will entice people to interact with you online, recommend to their friends and return again and again.
| | |
| --- | --- |
| To be successful online your website needs to: | |
| Show your business in its best light and look professional and trustworthy | |
| Be easy to navigate to information or products users want | |
| Be attractive and professional whilst re-enforcing your company brand and message | |
| Be SEO friendly and include text, content and code that increases your page ranking on search engines | |
| If people are buying online it must offer secure payment options | |
| Be easily updated to remain current | |

We recommend updating your site regularly. This can be done easily through a CMS (content management system) editor which comes standard with an upgrade to our Enterprise Server or New Sites. Also with Web Ninja new products, images, prices and inventory can all be updated in your accounting software making it easier than ever to keep your e-commerce shop up to date and current. This will insure you continue to rank in search engines and keep your customers interested in your site.
Web development should be seen as a three stage process to insure its success.
1 – Professional, attractive and on brand design
2 – Development and Functionality
3 – SEO and marketing
Opting for a professional web design is the first aspect to consider when getting a new website or updating your current site. It will definitely put you ahead of the game when insuring your website is a hit online. Insuring your website is coded correctly and works well is equally important. Finally the marketing of site is the final and one of the most crucial elements in the process, as if nobody can find your site online then nobody will buy from you.
When someone goes to your site for the first time they should firstly recognise that they have landed on the correct page they were looking for. This is done through brand continuity and drawing attention to key messages. It should also be to easy to navigate and find exactly what they are looking for. They should also gain a feeling of trust. The design and layout of a website should not just enforce branding, but be structured correctly - which will keep them coming back for more.
Call us today if you have any questions about our in-house website design. If you are looking for a new website design or a design re-fresh for your website our experienced in-house graphic design team will insure your site meets all its objectives and gives the right first impression to your customers.