Ecommerce Integration 101: Understanding the Basics and How to Get Started
by Web Ninja | January 20, 2023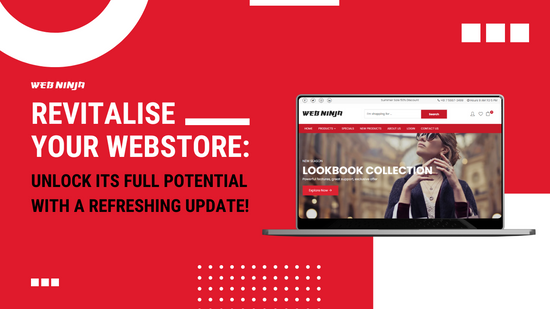 What is eCommerce Integration?
Ecommerce integration refers to the process of connecting an ecommerce platform with other systems or applications.
This can include integrating an e-commerce platform with a payment gateway, accounting packages or other types of systems that are relevant to the operation of an online store.
The purpose of ecommerce data integration is to automate and streamline various business processes and enable data to flow seamlessly between different systems.
For example, an ecommerce platform might be integrated with a payment gateway to allow customers to make online payments and for the ecommerce platform to process and track those payments.
There are many different approaches to ecommerce integration, including using APIs (Application Programming Interfaces), webhooks, and custom integrations.
Web Ninja has you covered with our services to simplify your life and spare you the hassle of learning all the technical aspects of e-commerce integration.
Types of eCommerce Integrations
Payment Gateway Integrations
These integrations allow businesses to accept online payments from customers through their eCommerce store. Web Ninja offers payment gateway integrations with PayPal, Stripe, Afterpay, Zippay, ANZ Egate and MPGS (Commbank, Bendigo Bank, Suncorp & Tyro) and our own Ninja Pay.
Inventory Management and Accounting Integrations
These integrations help businesses track and manage their inventory levels and update their online store in real-time.

Including contracted customer pricing, order fulfilment and syncing orders back to the ERP (Enterprise Resource Planning)


Examples include integrations with accounting software such as MYOB and Quickbooks. In Web Ninja, we offer ecommerce data integration with 16+ ERPs.
Marketing And Advertising Integrations
To help businesses connect their eCommerce store with marketing and advertising platforms to reach and engage with customers. Examples include integrations with Google Ads and Facebook Ads.
Social Media Integrations
This allows businesses to connect their eCommerce store with social media platforms and use them to promote products and engage with customers through targeted ads and relevant content.
Web Ninja specialises in this type of integration which refers to the process of linking accounting software with Web Ninja's own ecommerce web store platform as well as other 3rd party business systems or ecommerce platforms such as Shopify, Amazon, eBay and BigCommerce. This can help streamline processes and improve efficiency by allowing data to flow seamlessly between different systems.
Benefits of eCommerce Integration
By automating and streamlining various business processes, a fully integrated ecommerce business can save time and reduce the risk of errors.
Enhanced Customer Experience
By integrating an ecommerce platform with an accounting system, businesses can provide customer-specific pricing and data to personalise the shopping experience without having to place orders by phone or email. This can lead to higher levels of customer satisfaction and loyalty and faster order fulfilment.
By integrating different systems, businesses can provide a more seamless and efficient shopping experience for their customers with fewer delays. For example, an integrated accounting system can help businesses to keep customers better informed of live product availability as well as process their orders faster by sending the order automatically to the warehouse team to start packing the order.
Better Data Tracking and Analysis
By integrating an ecommerce platform with other systems, businesses can capture and analyse more data about their customers, sales, and operations. This can help businesses make more informed decisions about their ecommerce and marketing strategies.
Increased Competitiveness
A fully integrated ecommerce business can operate more efficiently and effectively than one that relies on manual processes or disconnected systems. This can give businesses a very competitive advantage in the marketplace.
How to Choose the Right eCommerce Integration?
Make sure that the solution is compatible with your ecommerce platform and the other systems you want to integrate with. Not all tools integrate with each other and some have more limitations than others.
Consider whether the solution can scale with your business as it grows.
Features and Functionality
Look for a solution that offers the features and functionality you need, such as support for different payment gateways, existing integrations with your specific accounting and ERP system and a solid support team to assist you when you get stuck or have issues.
Consider the ease of use of the solution for your team and your customers.
Make sure that the solution is secure and complies with relevant laws and regulations.
Evaluate the cost of the solution and compare it to your budget and the potential benefits it offers.
Look for a solution that offers good customer support in case you need help with setup or troubleshooting.
It may also be helpful to research different ecommerce business integration and read reviews from other businesses to get a sense of the pros and cons of different options.
How to Integrate Your eCommerce Store?
Identify The Systems You Want To Integrate With
Determine which systems you want to integrate with your ecommerce store and the specific features and functionality you want to access from those systems.
Research Integration Solutions
Research different ecommerce store integration services and evaluate their compatibility with your ecommerce platform and the systems you want to integrate with.
Web Ninja's integrations are designed to be compatible with a wide range of ecommerce platforms and accounting systems.
Alongside Web Ninja's own ecommerce platform, we can integrate with various ecommerce platforms such as Shopify, Amazon, eBay and BigCommerce.
Select an integration solution that meets your needs and budget.
Web Ninja's ecommerce data integrations are tailored to meet each small business's specific needs and budget. We offer a range of services, from basic website development to more advanced ecommerce platform integration.
One of our solutions is a custom ecommerce website development service, where we design and develop an ecommerce website that is tailored to the specific needs and requirements of the small business. The website will be responsive and optimised for search engines.
Additionally, we offer ongoing support and maintenance services to ensure that the ecommerce website remains up-to-date and runs smoothly. We also provide analytics and reporting services to help small businesses track and analyse website traffic, customer behaviour, and sales data.
Overall, Web Ninja's integration solutions are flexible and customisable to meet each small business's specific needs and budget. We work closely with our clients to understand their requirements and provide a cost-effective solution that helps them to manage their online sales and grow their business.
Follow the instructions provided by the integration solution to set up the integration. This may involve creating an account with the solution, installing software or plugins, and configuring the integration settings.
Make sure it is working correctly and that data is flowing between your ecommerce store and the other systems as expected. In choosing Web Ninja's ecommerce solution, we will assign a project manager to do this task for you which will also guide you in case you want a specific test and details to review.
Monitor and Optimise the Integration
Monitor the integration to ensure it runs smoothly and make any necessary adjustments to optimise its performance.
Web Ninja simplifies the task by providing comprehensive technical support that works closely with our team of developers to ensure that your integration is seamless and efficient.
Our technical support team is composed of experienced professionals who are experts in our system and dedicated to providing you with the assistance you need to set up and configure your ecommerce platform.
With Web Ninja, you can be sure that you are in good hands when it comes to integrating your business. Our technical support team is here to help you every step of the way, making the process as easy and stress-free as possible.
Summary
eCommerce integration plays an important role as it helps businesses streamline their operations and automate many tasks, saving time and resources. It can also help businesses improve the customer experience by providing a seamless and efficient shopping experience without making customers jump through too many hoops
When selecting an ecommerce data integration, it's essential to consider the cost, ease of use, and scalability of the platform. Additionally, you should also evaluate the level of customer support and the number of integrations available with other platforms like social media and accounting software.
Web Ninja offers ecommerce data integration that connects your ecommerce web store with popular accounting solutions such as MYOB and Quickbooks with over 16 other ERP integrations.
Our services include all the features that any business owner would look for in an ecommerce data integration services provider, such as seamless integration, cost-effectiveness, ease of use, scalability, and exceptional customer support.
We provide integrated solutions that are tailored to meet the specific needs of your business and help you to improve efficiency, enhance customer experience, increase sales, and better track and analyse data.

To learn more about how Web Ninja integration solutions can help your online business, you can review Web Ninja case studies HERE.
Other Web Ninja Blogs