5 Steps to a Seamless eCommerce Integration
Jeff Almarez | March 24, 2023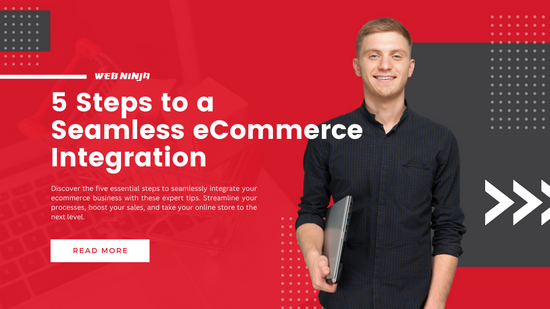 In the current era of digitalization, having an online presence has become vital for businesses to expand their reach and increase sales.
However, merely creating an ecommerce website is not sufficient for success in the online marketplace. For businesses to thrive, it is imperative to seamlessly integrate their online store with their existing systems and processes.
To help businesses achieve this objective, Web Ninja has identified five crucial steps for seamless ecommerce integration. These steps include understanding the requirements, selecting the appropriate platform, customizing the platform to align with the business needs (and branding), integrating with other systems, and testing and launching the ecommerce store.
By following these steps, businesses can optimize their ecommerce operations, enhance efficiency, and offer a smooth shopping experience to their customers.
Throughout this discussion, we will dive into each step and provide practical insights and tips for businesses to achieve successful ecommerce integration.
Regardless of whether a business is new to ecommerce or looking to improve its existing operations, this guide will offer valuable information to help them achieve its goals.
So, let's begin exploring the "5 Steps to Seamless Ecommerce Integration by Web Ninja".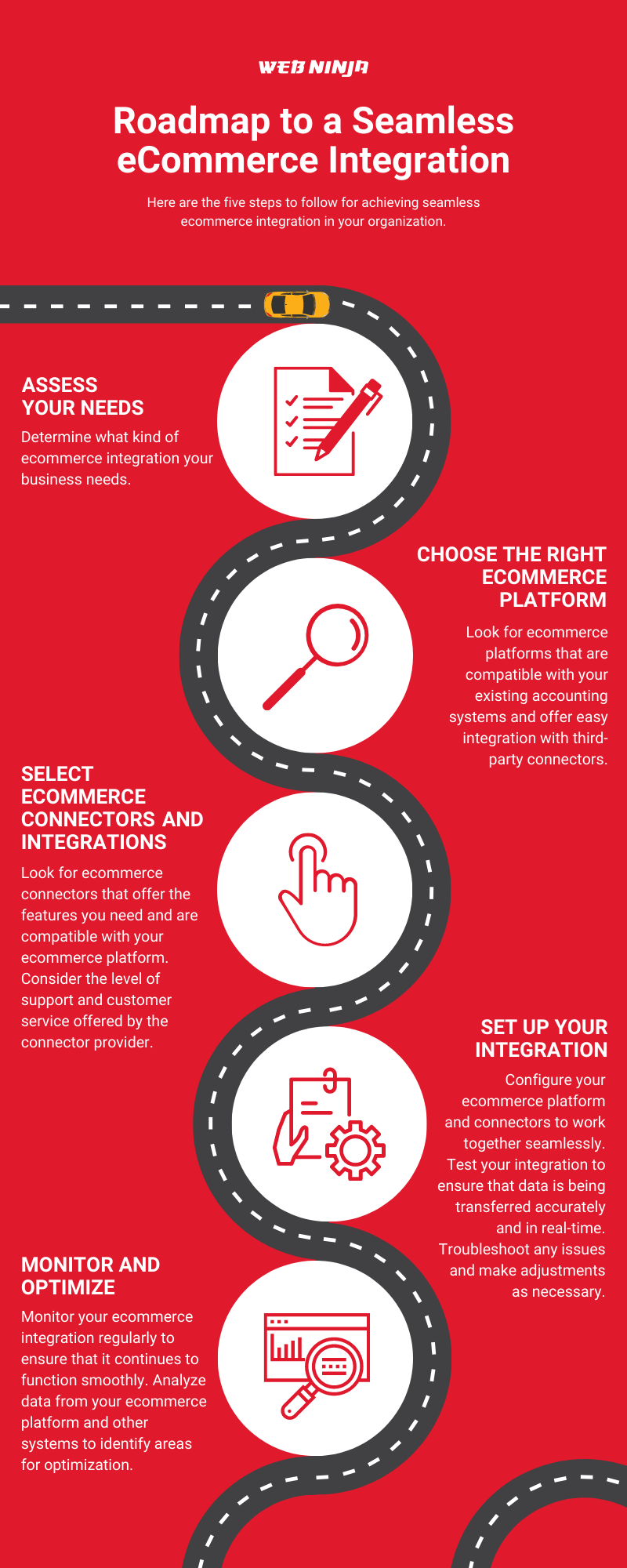 Step 1: Assess Your Needs
Determine what kind of ecommerce integration your business needs. Do you require a platform that integrates with your existing systems, or do you need connectors to integrate different systems? Identify the specific features and functionality that you need from an ecommerce integration solution.
Step 2: Choose the Right Platform
Research and compare ecommerce platforms that offer the features you need. Look for platforms that are compatible with your existing systems and offer easy integration with third-party connectors. Consider factors like pricing, scalability, and user-friendliness when making your decision. Web Ninja offers integration with a variety of ecommerce platforms, including B2B Online Ordering Platforms, B2B ecommerce platforms and B2C ecommerce platforms.
Step 3: Select Connectors and Integrations
Identify the specific connectors and integrations you need to connect your ecommerce platform with your existing systems. Look for connectors that offer the features you need and are compatible with your platform. Consider the level of support and customer service offered by the connector provider.
Our support team at Web Ninja consistently delivers excellent customer service and receives exceptional feedback from our customers, with satisfaction rates ranging from 97-100% each week.
We at Web Ninja, provide a variety of connectors for Shopify, Amazon, eBay and BigCommerce as well as integrations to some of the most popular accounting software integrations in Australia such as MYOB Exo, MYOB Advanced, MYOB AccountRight, MYOB Retail Manager, Reckon, Sap, Oracle Netsuite, Attache BI, Quickbooks, Jiwa, Ostendo, Infusion, Fishbowl, Xero, Tencia, Triumph, Unleashed, Sybiz, and Wiise.
Step 4: Set Up Your Integration
Configure your e-commerce platform and connectors to work together seamlessly. Test your integration to ensure that data is being transferred accurately and in real-time. Troubleshoot any issues and make adjustments as necessary. Web Ninja project managers facilitate the setup and installation support to ensure seamless integration for our customers.
Step 5: Monitor and Optimize
Monitor your e-commerce integration regularly to ensure that it continues to function smoothly. Analyze data from your e-commerce platform and other systems to identify areas for optimization. Use this information to make data-driven decisions and improve your e-commerce performance. Web Ninja provides ongoing support and optimization services to help you achieve the best results.
Summary
To sum up, success in the digital age requires seamless e-commerce integration. The five essential processes for establishing seamless eCommerce integration are highlighted in this guide, and they are as follows: determining your needs; picking the best platform; choosing connectors and integrations; setting up your integration; and monitoring and optimising.
By taking these actions, businesses may improve customer experience, streamline their e-commerce operations, and ultimately boost sales and profitability. Regardless of their level of experience or size, businesses can successfully integrate e-commerce with the aid of Web Ninja's knowledge and real-world insights.