Australian Age of Dinosaurs
Australian Age of Dinosaurs sell a range of range of products and educational experiences where all donations help promote the discovery and preservation of fossil material.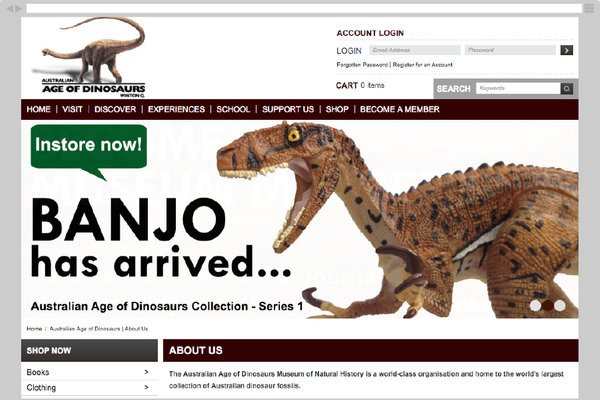 The Ninjas bring creatures from the past in to the future.
Australian Age of Dinosaurs Ltd. (AAOD) is a western Queensland based, non-profit organisation which draws support from across Australia. We rely on volunteer effort and the contributions of interested people and sponsors. Their mission is to encourage, promote and facilitate the discovery, preservation and display of fossil material from the age of dinosaurs within Australia.
The Ninjas brought them out of the Jurassic period with webshop fully integrated with MYOB AccountRight Live. The site also has some clever custom integrations such as Course enquiry forms integrated with MYOB stock items, where customers can choose a day a course is run, learn about it and fill out an enquiry form.
Web Address: australianageofdinosaurs.com
Software: MYOB AccountRight Live
Location: Winton, QLD
---
Integration Features
Custom course enquiry forms integrated with MYOB stock items. Customers can choose a day a course is run, learn about it and fill out an enquiry form.

Colour size style integrated for apparel
Stock level manager
Minimum and multiple quantity ordering
Related products linked for upselling
Product specials
Order templates integration. Customers can create their own order templates and the site administrator can create and assign order templates to customers
MailChimp integration
Google Analytics integration
MYOB pricing
Customer import from MYOB
Integration to NAB for payments
---